THE 2021 NWFMOA SCHOLARSHIP AWARDS
Our 2021 scholarships were presented at our traditional May luncheon. The luncheon was held at the larger American Legion facility rather than the Fort Walton Yacht Club due to COVID-19 spacing criteria. Again, thanks to the generosity of our Chapter members and local business donations we were able to award eight scholarships totaling $21,500 for 2021.
This year's scholarship winners, their local high school JROTC unit, and scholarship amount are: Cadet Kathryn Dunn, Crestview, $2,500; Cadet Isabella Barrette, Fort Walton Beach, $2,500; Cadet Logan Herron, Navarre, $2,500; Cadet Ethan Gifford, Navarre, $2,500; Cadet Christian Padron, Fort Walton Beach, $2,500; Cadet Connor Dagel, Niceville, $2,500; Cadet Ryan Herron, Niceville, $2,500; and, Cadet Jeffrey Tavarez, Chocrawhatchee, $4,000 (winner of the Lt. Col. James (Jim) and Mrs. Una Heavener Memorial Scholarship). Our sincerest congratulations to each of our 2021 scholarship awardees.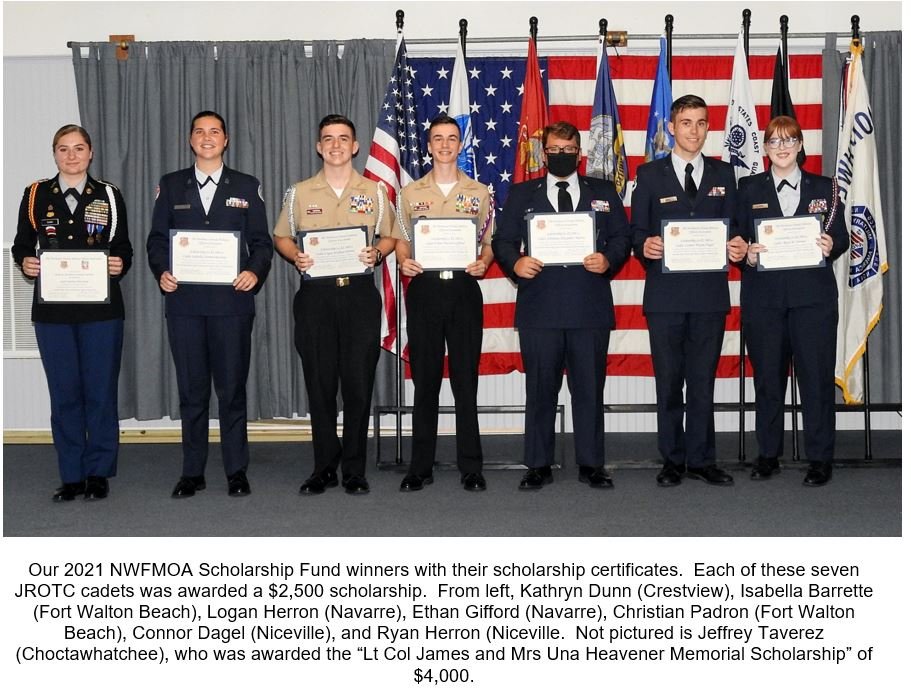 For additional pictures, click HERE.
---









Click to visit each service website


Send your feedback to us by Email.
For additional information: NWFMOA, P.O. Box 1213, Shalimar, FL 32579 • info@nwfmoa.org
Copyright © 2010- - Northwest Florida Military Officers Association - All Rights Reserved.