THE 2020 NWFMOA SCHOLARSHIP AWARDS
Historically, our May luncheon is when we present our NWFMOA scholarships to local JROTC cadets. Since the May luncheon was cancelled due to virus concerns we presented the scholarships on June 18, 2020, at the Two Trees Restuarant. Thanks to the generosity of our Chapter members and local businesses we have awarded eight scholarships totaling $21,500 for 2020.
This year's scholarship winners, their local high school JROTC corps, and amounts are: Cadet Jesse Pearson (Navarre H.S.), winner of the $4,000 "Lt. Col. James (Jim) and Mrs. Una Heavener Memorial Scholarship"; Cadet Donna Arnold, Choctawhatchee H.S., winner of the $2,500 "Chong Cha (Kim) Parisot Memorial Scholarship"; Cadet Sean Ripley, Niceville H.S., $2,500; Cadet Kayla McCarthy, Navarre H.S., $2,500; Cadet Brandon Grant, Fort Walton Beach H.S., $2,500; Cadet Anthony Rojas, Crestview H.S., $2,500; Cadet Logan Sullivan, Baker School, $2,500; and, Cadet Jordyn Elder, Baker School, $2,500. Congratulations to each scholarship winner.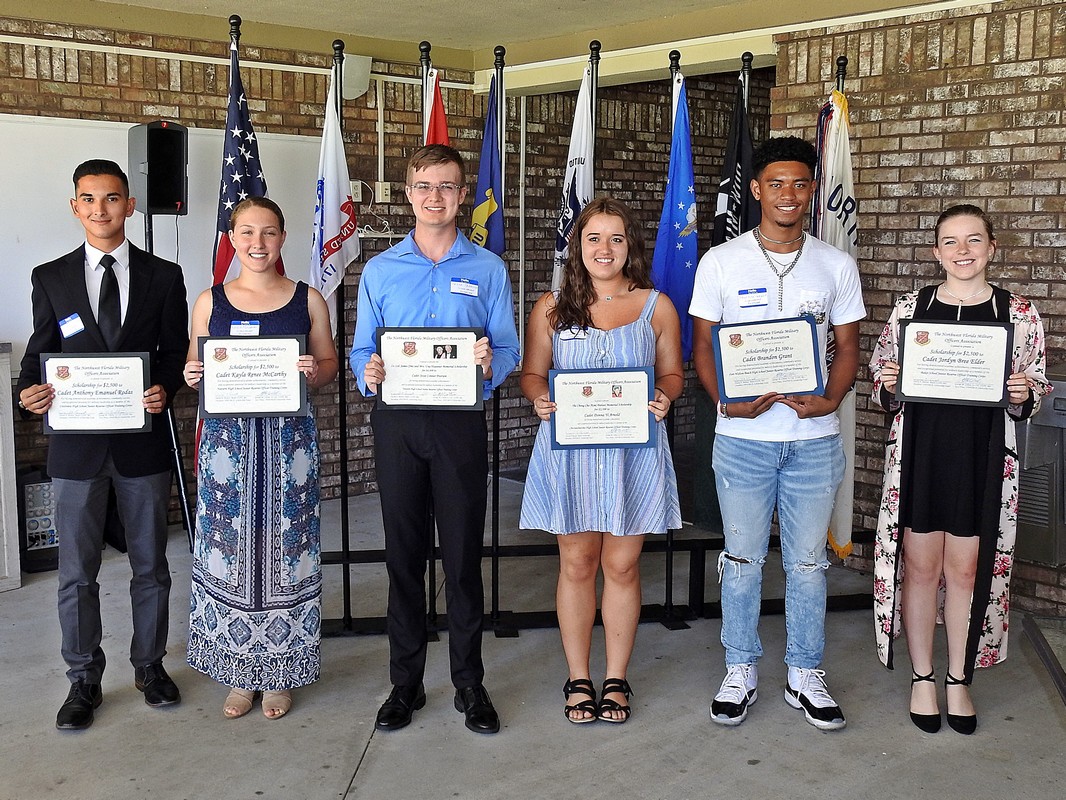 From left to right: Cadets Anthony Rojas, Kayla McCarthy, Jesse Pearson, Donna Arnold, Brandon Grant, and Kayla McCarthy. Sean Ripley and Logan Sullivan were unable to attend.
---









Click to visit each service website


Send your feedback to us by Email.
For additional information: NWFMOA, P.O. Box 1213, Shalimar, FL 32579 • info@nwfmoa.org
Copyright © 2010- - Northwest Florida Military Officers Association - All Rights Reserved.